Impact Hub Brixton and Incredible Edible Lambeth would like to invite you to take part in a leadership development programme aimed at food leaders like you.
We all want to put people at the heart of the food we create. What if here in Lambeth we produced, distributed and ate food in a way that
supported our community's need to live healthily, socially, sustainably and affordably
enabled food producers, manufacturers, retailers and innovators to work effectively together
enabled us all to get more involved in meeting our own food needs?
But we can't do this on our own.
Many of the problems we face with how our food is grown, distributed, eaten – and sometimes wasted – don't have easy answers. People locally and globally, whether citizens, local growers or large manufacturers, struggle to see the bigger picture, or understand how to make an impact. We need a different approach.
We are convening a group of 25 people for a 6 week programme to jointly find these answers for Lambeth and beyond. Food growers, retailers, manufacturers, caterers, distributors, policy-makers, innovators, activists, writers – come and join us.
We will work with an approach known as U.Lab. This is a way of leading profound change that has been developed by action researchers at MIT, and practiced by leaders around the world for over 20 years.
Are you up for the challenge?
Previous course participants said
"A course which basically explains why everything in the world is broken, and gives you the tools and hope in how to fix them."
"It's a free course focussing on the community, change and activism – but with mindfulness and coaching thrown in. It's really good!"
"Briefly, it's better experienced than described."
Read more about the previous U.Lab Lambeth course here.
Benefits to you
As a result of participating in the programme you will:
Learn new tools in listening, facilitation and connecting with others that you can take back to your organisation
Accelerate your ideas for a better Lambeth as part of a group of energetic and optimistic people
Build lasting relationships with changemakers in the borough
Get access to meeting space and resources to develop your ideas beyond the course
Syllabus
Week 0: Intro night Connect with others working in the food system. Vision what you want from the Lambeth food system by 2035, hear an overview of the U.Lab course with Q&A. Expect high energy and enthusiastic people – and of course food.
Week 1: Mapping the food system Develop a shared understanding of the food system – what is broken, what the power dynamics look like and areas for influence
Week 1b: Optional visit Visit a community food project and practice a new communications tool
Week 2: Connecting the personal to the group Practice a coaching circle, supporting each other in individual leadership challenges
Week 3: Bringing it all together Understand how Lambeth-based food growers, makers, retailers, innovators and redistributors work together, and discover the sweet spots for change
Week 3b: Optional Visit Visit a community food project
Week 4: Prototyping Get creative and build mock versions of your ideas in a group
Week 5: Developing Prototypes Build on what you started in Week 4 – get feedback fast and adapt your project
Week 6: Celebration and next steps
Timing
Each session will be on a Wednesday, will run from 6pm until 8.30pm, and dinner will be provided.
Dates
Week 0: Wednesday 9th March (Launch)
Week 1: Wednesday 16th March
Week 1b: Saturday 19th March
Week 2: Wednesday 23rd March
Week 3: Wednesday 30th April
Week 3b: Saturday 2nd April
Week 4: Wednesday 6th April
Week 5 Wednesday 13th April
Week 6: Wednesday 20th April
Costs
We ask you to become a Hub Connect member for the duration of the course. This gives us some budget for delivering the event and keeping the lights on! This membership costs £18 per month, and gets you access to Hub socials and events, to the community of entrepreneurs and activists who use the Hub, and to regular newsletters, opportunities and community events.
The actual cost of delivering the course is much higher. The course has been made possible thanks to the sponsorship of Incredible Edible Lambeth, and the generosity and enthusiasm of the facilitation team who are contributing time and energy to put this together.
Let us know if this cost is a barrier to you participating, and we will be in touch to discuss possibilities.
Who is invited?
Everyone is invited to take part in the Grow Your Own Leaders course at Impact Hub Brixton, provided they bring an open mind and a willingness to work with anyone and everyone. This course will focus on transforming the food system so we are particularly targeting people interested in food eg community food project organisers, campaigners, food industry professionals, food workers such as teachers or health workers, food business owners, gardeners, food writers. As Incredible Edible Lambeth says "If you eat you're in!".
Space limitations mean that there are a maximum of 25 places available – so please sign up soon if you can commit to the course. If you cannot commit straight away please sign up to the launch event to find out more.
Sponsors
The course here in Lambeth has been made possible thanks to the Incredible Edible Lambeth Network, funded by Esmee Fairbairn.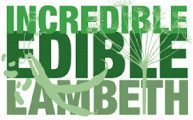 This course in general has been made possible thanks to 20 years of research from Otto Scharmer and his team at the Presencing Institute at the Massachusetts Institute of Technology.